"Is Rite Aid going out of business?" that's the question many are asking right now as the popular pharmacy chain closes stores and bankruptcy rumors swirl. We've all seen the headlines and heard the news, but what's the real story?
In this article, we'll dig into the facts, take a look at Rite Aid's history, and explore the challenges they're currently facing to understand what's going on with this well-known brand. Is Rite Aid going out of business? Let's find out.
A Closer Look at Rite Aid
Before we tackle the big question, let's first get to know Rite Aid a little better. Founded in 1962 in Scranton, Pennsylvania, Rite Aid is one of the largest drugstore chains in the United States. They sell everything from prescription medication to health and wellness products, beauty supplies, and even snacks.
What sets the brand apart is its community-focused service. They aim to make healthcare services accessible to people in various neighborhoods. And over the years, Rite Aid has been able to achieve this.  
In 2018, Rite Aid and Walgreens had a deal where Walgreens purchased over 1,900 Rite Aid locations. So, in some places, you might find a Walgreens where a Rite Aid once stood. But even after selling some of its stores, Rite Aid still operates over 2,100 stores across the U.S.
Yes, that's how big the brand is. Now you understand why many are concerned about the looming bankruptcy over the retail chain, hence making them ask, 'Is Rite Aid going out of business?'
Is Rite Aid Going Out of Business?
Well, it's not looking great. The company is reportedly preparing to file for Chapter 11 bankruptcy, partly due to a slew of opioid-related lawsuits. Shares of the company fell dramatically after this news broke, and you can bet that is enough to cause panic in the minds of its loyal customers and investors.
However, while bankruptcy doesn't always mean the end for a company, it's not exactly a sign of good health either.
Rite Aid has been closing a large number of stores – about 239 since 2021 and another 27 in just the first quarter of this year. But it's worth noting that bankruptcy can sometimes offer companies a chance to restructure and bounce back. So, while things look tough, it may not be the end of the road just yet.
So, is Rite Aid going out of business? Let's all keep our fingers crossed. The company might eventually survive this hard time if it got a company to acquire it before declaring bankruptcy.
Why is Rite Aid Closing Stores?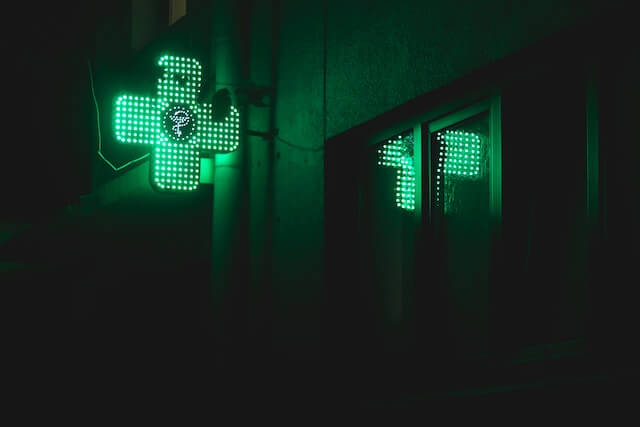 Rite Aid's present multiple store closures can be traced to many factors. According to Rite Aid spokespeople, the decision to close a store is based on business strategy, rent, and local business conditions.
They've also pointed out that they make efforts to transfer prescriptions to other nearby pharmacies to minimize disruptions for their customers.
Beyond that, Rite Aid had plans to merge with grocery chain Albertsons in 2018, but the deal fell through. A successful merger might have strengthened Rite Aid's position, but now they're on their own, figuring out how to navigate tough times.
You may also like:
Is the Brand Facing Financial Challenges?
You bet. The company is looking at a debt load of $3.3 billion. They're even expecting a loss of $700 million this year, according to their CFO. The opioid lawsuits don't help, adding legal fees and damaging their reputation.
All these are huge signs that Rite Aid is presently not doing well with its finances. And that is the major reason the company has been considering filing for bankruptcy.
Rite Aid is Not the Only Retailer Suffering
It's a tough time for brick-and-mortar stores, in general. Online sales are booming, and that's making life hard for stores you can actually walk into. Rite Aid isn't the only pharmacy chain struggling either. There are many of them.
 CVS, for example, has announced plans to close about 300 stores per year until 2024. Walgreens has also shut down multiple stores, showing that these brands are also presently struggling and barely trying to make things work.
What's affecting Rite Aid is part of a bigger trend. Shoppers are increasingly clicking "buy now" on their screens rather than driving to stores. This digital shift is something Rite Aid and other retailers will have to figure out if they want to survive.
Is Rite Aid Going Out of Business – Final Note
So, is Rite Aid going out of business? The answer is not straightforward – it's actually complicated. They're closing stores, facing massive debt, and even prepping for bankruptcy. But they're also a large chain with a long history, and bankruptcy could offer a chance to restructure and find a new way forward.
If you're a Rite Aid customer, you might find your local store replaced by a Walgreens or another pharmacy. But this isn't just a Rite Aid issue; it's a sign of broader challenges facing brick-and-mortar retail stores. Only time will tell whether Rite Aid can weather this storm or if this is indeed the end of the road for them.
FAQs
What are Some of Rite Aid's Stores Closing?
Rite Aid has been closing stores across the country. In the Treasure Valley area, for example, one of the newest Rite Aid stores that opened in 2017 closed its doors recently.
The list also includes multiple stores in western New York and two stores in the Dallas-Fort Worth area in Texas. Overall, Rite Aid closed 239 stores since 2021 and another 27 in just the first quarter of this year.
Why is Rite Aid Losing Money?
Rite Aid is losing money for several reasons. First, they have a substantial debt load of $3.3 billion. Also, they've been facing different legal challenges. This not only costs them in legal fees but also harms their reputation.
Again, Rite Aid is struggling to keep up with larger rivals like Walgreens, CVS Health, and Walmart pharmacies. The company even cited a decrease in revenue to $5.65 billion compared to $6.01 billion in the previous year, partly because of the reduction in its prescription drug plan (PDP) membership.
How Many Rite Aid's Are Left in the United States?
As of the most recent data, there are still over 2,100 Rite Aid stores across the United States. However, it's essential to note that this number is continuously changing due to ongoing store closures.
Did Rite Aid Get Bought Out?
Rite Aid has not been fully bought out, but in March 2018, it did sell 1,932 of its stores and 3 distribution centers to Walgreens in a $4.3 billion deal. Rite Aid remains an independent company but is notably smaller than it was before the sale.